Hourglass Group, Ltd. was founded in 1998 by Elyse Singer, Carolyn Baeumler and Nina Hellman with the mission to develop adventurous new plays and reinvestigate neglected vintage American comedies. Hourglass champions writers who experiment with dramatic language and innovative theatrical forms, including the use of multimedia.

We have a special interest in fostering challenging works that explore the tensions between society and female identity throughout time. Our vision encompasses both the radical lyricism of today's most innovative voices and the crackling wit of yesterday's.





Hourglass's new play development programs serve a vibrant, diverse and growing community of emerging and early career American theatre artists – particularly women playwrights. This community of new voices includes Ruth Margraff, Kirsten Greenidge, Kate Moira Ryan, Marisa Wegrzyn, Jake-ann Jones, Brooke Berman, Victoria Stewart, Mary McBride, Hillary Bell and Jose Rivera. We foster new play development from conception to full production through four distinct programs: the Summer Development Retreat at Choate Rosemary Hall, readings, workshop productions and full productions. The company also offers playwriting classes to the general public and, in 2005, inaugurated a writer/performer lab for women solo artists.






Artistic Director

Elyse Singer

Associate Directors

Carolyn Baeumler

Nina Hellman

Board of Directors

Ivor Clark, Ben Feldman

,

Mark Hellman

,

Mary Ann Le Fort, Hillary Knill

, Felice Neals
Hourglass Icons
Mark L. Beigelman

,

Steven Bernstein

,

Julie Brimberg

,

Tonya Canada

,

Linda Chapman

,

Kathryn Erbe

,

Roger Gindi

,

J.P. Graham

,

Jan Leslie Harding

,

Troy Hollar

,

Morgan Jenness

,

Melanie Joseph

,

Suji Kwock Kim

,

Ruth Margraff

,

Mary McBride

,

Chiori Miyagawa

,

Mark Russell

,

Paul J. Tines











PRODUCTION HISTORY:

2008
Frequency Hopping
written & directed by Elyse Singer
Winner, International STAGE Award

2007
Beebo Brinker Chronicles
by Kate Moira Ryan & Linda S. Chapman
directed by Leigh Silverman


Winner, GLAAD Media Award



Real Live Women 2007
New works from
the Hourglass Solo Lab

2006
Trouble in Paradise
adapted from the 1932 Ernst Lubitsch film and Samson Raphaelson screenplay by David Simpatico
conceived & directed by Elyse Singer


Winner, OBIE Award (Nina Hellman, Performer)



Real Live Women
Six provocative new works from
the Hourglass Solo Lab


2005
Wellspring
by Ruth Margraff
music by Cafe Antarsia Ensemble


2004
Hot Buttons: A Political Vaudeville
New short indendiary political plays by Erin Courtney, Steve Earle, Kirsten Greenidge, Neil LaBute, Winter Miller, Aaron Mack Schloff & Sheri Wilner

2003
Next Stage Festival:
800 Words by Victoria Stewart
The Nitpicker by Mary McBride
Brainpeople by Jose Rivera
Magic Kingdom by Jake-ann Jones

Pleasure Man by Mae West
(concert reading)

2002
Flirting with the Edge
Reading series of new plays by Douglas Bost, Kirsten Greenidge, Suzanne Maynard Miller, Jay Reiss, Erika Rundle, Elyse Singer & Victoria Stewart
Red Frogs by Ruth Margraff

2001
Frequency Hopping by Elyse Singer (workshop)
The Triple Happiness by Brooke Berman (workshop)

2000
Reading Series at the Gershwin:
Plays by Hilary Bell, Kira Obolensky,
Brooke Berman and Ruth Margraff
SEX by Mae West (Off-Broadway)
Hundreds of Sisters & One BIG Brother by Deborah Swisher

1999
SEX by Mae West











Since first collaborating on Ruth Margraff's play F
lags Unfurled: 1976
in the summer of 1994, we have worked together on close to 20 projects. Prior to founding Hourglass Group in 1998, some of our projects included:
Love in the Void (alt.fan.c-love)
,
Care-less: Eva Tanguay
and
A Horse in the Moon
.
Company Bios:

Elyse Singer (Artistic Director) For Hourglass, Elyse has directed TROUBLE IN PARADISE, Mae West's SEX and PLEASURE MAN, Ruth Margraff's WELLSPRING and RED FROGS, Jake-ann Jones' MAGIC KINGDOM, her original play FREQUENCY HOPPING, Brooke Berman's TRIPLE HAPPINESS, Kirsten Greenidge's LIFE AFTER CURIOUS GEORGE and Deborah Swisher's HUNDREDS OF SISTERS & ONE BIG BROTHER at the Harold Clurman Theatre following runs at HERE, HBO Workspace in LA, and Brava in San Francisco. For Hourglass's reading series, she has also directed new work by Hillary Bell, Kira Obolensky, Kate Moria Ryan, Marisa Wegrzyn and Erika Rundle. She is currently preparing to direct an evening of new Suzan-Lori Parks plays as part of Hourglass Group's featured week in the Public Theater's 365 Plays/365 Days project.

In New York, Elyse has worked extensively downtown, directing and producing the premieres of new plays by writers such as Ruth Margraff, Neena Beber, Naomi Iizuka, Catherine Zimdahl, Aaron Mack Schloff and Debbie Isitt. Her work has been seen at the Public Theater, BAM, NYTW, Playwrights Horizons, P.S. 122, DTW, Dixon Place, HERE and the Culture Project. As a writer/director, she is perhaps best known for her 1995 multimedia play LOVE IN THE VOID (alt.fan.c-love), an adaptation of Courtney Love's Internet postings, performed by Carolyn Baeumler. It ran at HERE and P.S. 122 and has the distinction of being featured in 24 Hours in Cyberspace, the first Web site inducted into the Smithsonian [in a 1997 ceremony by Al Gore]. Other original works include Private Property (Edinburgh Festival), Care-less: Eva Tanguay (Dixon Place) and Frequency Hopping, which was commissioned by the Ensemble Studio Theatre/Sloan Foundation and was developed through the Drama League's New Directors/New Works Project and an artists residency at Yaddo. A Yale graduate, Elyse is a Usual Suspect at New York Theatre Workshop, an alum of the '95 and '96 Lincoln Center Theater Directors Labs and an Affiliated Artist of New Georges.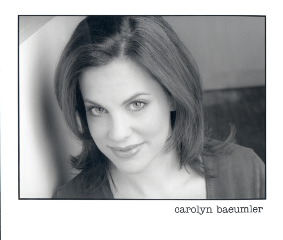 Carolyn Baeumler (Associate Director) With Hourglass, Carolyn has appeared in TROUBLE IN PARADISE; SEX (as Mae West); Jose Rivera's BRAINPEOPLE; Mary McBride's THE NITPICKER and HOT BUTTONS: A Political Vaudeville as well as countless other readings in our FLIRTING WITH THE EDGE Series. She also co-stars in Douglas Bost's film Focus Group with Terry Kinney (which Hourglass co-produced). Pre-Hourglass Collaborations with Elyse & Nina include portraying Courtney Love in LOVE IN THE VOID (alt.fan.c-love) at HERE, Eva in CARE-LESS: EVA TANGUAY at Dixon Place and Madonna in Ruth Margraff's FLAGS UNFURLED: 1976.

Carolyn originated the role of Lydia in Chuck Mee's BIG LOVE directed by Les Waters at Actors Theatre of Louisville's Humana Festival and then continued to tour the production to Long Wharf Theatre, Berkeley Rep, The Goodman Theatre, and Brooklyn Academy of Music's Next Wave Festival 2001 for which BIG LOVE won an OBIE AWARD.
Other Theatre Credits Include: Jane/Hedda in HEDDATRON (Les Freres Corbusier); THE MEMBER OF THE WEDDING directed by Joanne Woodward (Westport Country Playhouse); RAG&BONE directed by Tina Landau (Long Wharf Theatre); Regan in KING LEAR (Playmakers Repertory Company) and Jean Tatlock in THE LOVE SONG OF J. ROBERT OPPENHEIMER (Cincinnati Playhouse in the Park) both directed by Mark Wing-Davey; ALL MY SONS directed by Doug Hughes (Westport Country Playhouse: starring Richard Dreyfuss & Jill Clayburgh); Marilyn Monroe in MISS GOLDEN DREAMS (A Contemporary Theatre); THE EROTICA PROJECT directed by John Gould Rubin (Joe's Pub and HERE); Tracey S. Wilson's LEADER OF THE PEOPLE (HERE); Lolli in Bryan Goluboff's IN-BETWEENS (Cherry Lane Theatre); A CLOCKWORK ORANGE directed by Terry Kinney (Steppenwolf Theatre) and THE TRUE LOVE STORY OF MY PARENTS (Vital & Samuel French Play Festivals). Carolyn understudied both Blanche and Stella (appearing for 3 performances as Blanche) in the New York Theatre Workshop production of A STREETCAR NAMED DESIRE, directed by Ivo Van Hove. Film and Television credits include: Law & Order; Law & Order: Criminal Intent; Gypsy 83 and Flightless Birds. Carolyn is a Usual Suspect at New York Theatre Workshop and a graduate of New York University's Tisch School of the Arts.

She is currently appearing in Ariel Dorfman's SPEAK TRUTH TO POWER directed by Terry Kinney at the Culture Project through December 2006.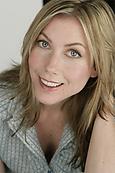 Nina Hellman (Associate Director) With Hourglass, Nina has appeared in TROUBLE IN PARADISE, Mae West's SEX & THE PLEASURE MAN, Ruth Margraff's RED FROGS, BRAIN PEOPLE by Jose Rivera, THE TRIPLE HAPPINESS by Brooke Berman, THE NITPICKER, by Mary McBride, and HOT BUTTONS: A Political Vaudeville, and many other readings. In addition to her work with Hourglass, Nina has acted extensively in Off-Broadway and Downtown theatre with many companies , including, the Vineyard Theatre, New York Theatre Worshop, Atlantic Theatre Co., Les Freres Corbusier, Mabou Mines, The Civillians, Adobe, Soho Rep, Clubbed Thumb, New Georges, Dixon Place, Ubu Rep, Target Margin, and Synapse Productions. Most recently, Nina appeared in THE INTERNATIONALIST by Anne Washburn at the Vineyard Theatre. Some other favorite productions are; The SPF production of Victor Lodato's WILDLIFE; Jane Jacobs in BOOZY; Madame Mao in THE LADIES by Anne Wasburn, DEMON BABY by Erin Courtney. Film and TV: The Ten ; Wet Hot American Summer ; Love Monkey (CBS); Law & Order Criminal Intent (NBC);Stella (Comedy Central) The Venture Brothers (Cartoon Network); and Mary Kay LeTourneau in The Mary Kay LeTourneau Story (upcoming, FOX M.O.W). Nina is also a member of the Civillians , and an affiliated artist of Clubbed Thumb and of Les Freres Corbusier.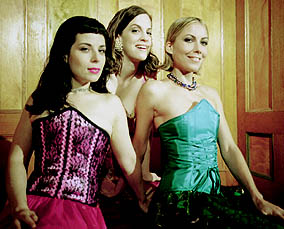 Elyse Singer, Carolyn Baeumler, Nina Hellman